EGROUP EU creates, implements and supports the loan business management system called CREDITONLINE. The company has been successfully operating since 2008 and has accumulated many years of experience and know-how to start and develop a successful loan business in different countries. EGROUP EU plays an important role in the loan business management market.
EGROUP EU has brought together a team of innovative, professional and creative employees. The company's work culture is based on accountability, pleasant service and direct communication with the customer.
EGROUP EU creates loan business ideas and its technologies
EGROUP EU ensures professional loan business consultations, qualified and fluid implementation of projects, its supervision and support. EGROUP EU always offers favourable payment terms and flexible prices.
EGROUP EU has been officially acknowledged to comply with the standards of ISO 9001 "Quality management" and ISO/IEC 27001 "Information security management".
To fulfil ideas of the loan business by providing innovative solutions which would provide maximum benefits to the client.
Vision
To be a leading company amongst companies who provide loan business solutions.
Goals
To create solutions which would fit the clients' needs.
To remain amongst the leaders in developing and delivering specialized solutions to companies who provide loan services.
To protect the client's information managed by the company as well as its confidentiality, integrity and availability.
To take care of the security, quality and availability of the software developed by the company.
To ensure the continuity of the company.
Values
Professionalism
Liability
Continuity
Openness to change
The pursuit of a common goal
Quality and information security policies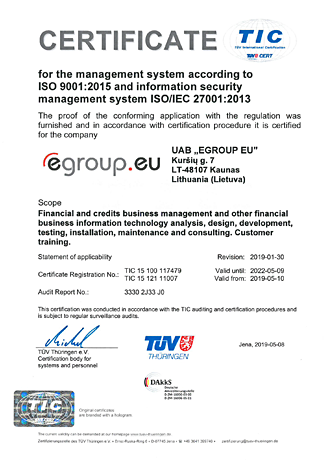 In order for EGROUP EU to perform all its services to the highest level and for its controlled information to be safe, EGROUP EU has implemented a quality management and an information security management system which meets the standard requirements of ISO 9001 and ISO/IEC 27001.
In the year 2011, EGROUP EU was awarded ISO 9001 "Quality management" and ISO/IEC 27001 "Information security management" certificates which are constantly checked during regular surveillance audits. The activity processes of EGROUP EU are based on the "Plan - Implement - Check - Expand" cycle.
The ISO 9001 standard obliges the company to focus towards the constant improvement of services. The main goal of EGROUP EU is to supply services of the highest quality. The company is obligated to ensure a stable quality of supplied services and products and to constantly increase the effectiveness of its activities.
Moreover, EGROUP EU focuses great attention towards information security. The ISO/IEC 27001 certificate confirms that the information security standards of the company meet the requirements of this standard and that also EGROUP EU has undertaken sufficient security measures in order to protect information from unauthorized use and alteration.
Information confidentiality, integrity and availability are guaranteed by the ISO/IEC 27001 standard.